ConcealaHook will not rust, corrode or ruin the fascia of your home or
business. After installation,you will be able to easily hang your seasonal
decorations of choice , Halloween, Christmas, Cinco de Mayo, …, When you
take down the decorations ConcealaHook stays in place until the next time
you use it, making the task of decorating much much easier..
Best of all, once you install it,
you will
NEVER HAVE TO DO IT AGAIN!!!
•
Hanging seasonal decorations on fascia and wood posts such as
Christmas lights.
•
Decorating mantels, doorways, fences, use around windows.
•
Edges of tables to hang purses, hats.
•
Picture frames and objects flush to wood walls.
•
Inside a house or business on any wood surface such as a mantle.
•
Hanging lights in a patio area.
•
Hang outdoor accessories.
•
Holiday decorating for restaurantson any wood surface.
ConcealaHook can also be used in many other great ways: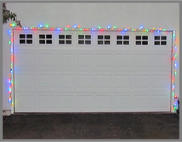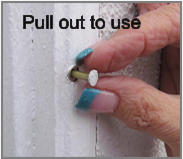 Eliminate the hassle of hanging unsightly hooks on your
home for seasonal decorations each year?